Young Honda is a dealership for those in Ogden and Weber county looking for great deals on high-quality vehicles.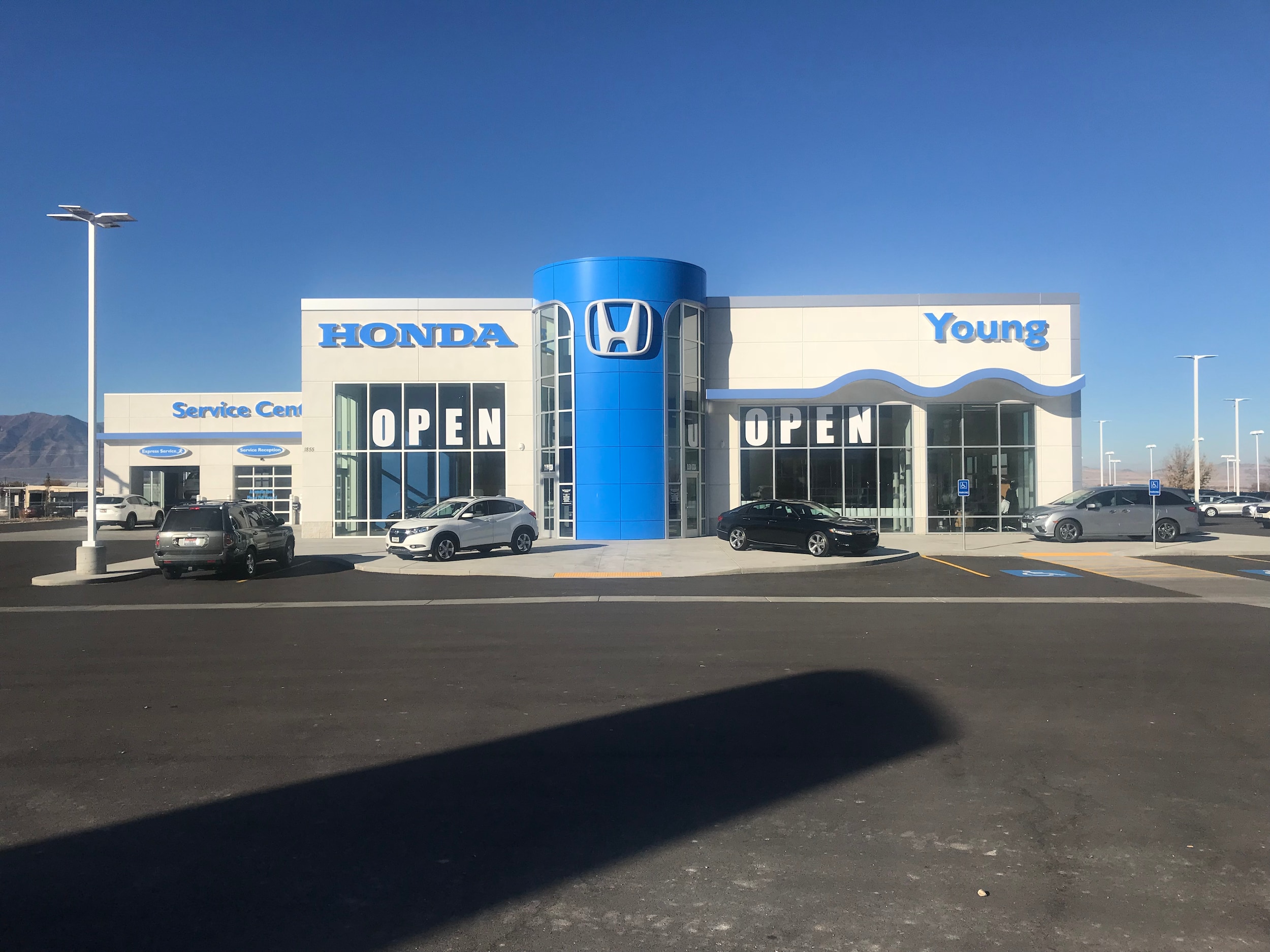 Young Honda is the premier Honda dealer in Logan Utah, only a 50 minute drive up Sardine Canyon from the Ogden area. They offer outstanding selection, sales, and service to those in  Ogden, South Ogden, Riverdale and Layton. Young Honda knows their young and young at heart customers will love their new selection for 2018! The Young Honda team holds their customer service and quality standards above all else. They practice consistency in business, service, values, prices and commitments. Their expanded inventory hosts some of Honda's newest models like the 2018 Honda CR-V, or the 2018 Honda Accord Sport. Young Honda also has great deals regularly on pre-owned and affordable used vehicles. Special discounts and sales are often promoted in each department. The dealership is conveniently located in the beautiful, hilly, and rough state of Utah. However, they're anything but rough. Their expert employees offer a genuinely personal experience to every single person that walks through their door. 
New Vehicle Inventory Samples - 2018
Young Honda is the place to go for customers searching for a nice Honda for sale near Ogden. Their team is always on the hunt for fresh, innovative, and reliable vehicles to offer. Their inventory is constantly in motion, so there's always something new to see! Luxury sedans are a hot item on car lots this year. A four-door sedan is the most comfortable and luxurious vehicle for long road trips and reliable winter commuting. With summer vacation season moving in full-speed ahead, a Honda Accord would be a rewarding investment for those lengthy car rides.
Boasting up to forty-seven highway miles per gallon, the new 2018 Honda Accord is fuel efficient and cost-friendly. It's environmentally friendly without sacrificing comfort or power. This unique sedan serves a classy cocktail of practicality with a sweet twist of high-end luxury. Honda's new Accord offers amazing space and a comfortable seat. It's easy to drive and even easier to ride.
2018 Honda Accord - Sport
This shiny, new, and sporty sedan has a sleek and sensual aerodynamic body style. It's beautifully flawless paint finish accents the stylish design lines along its sides. They flow like air waves over a jet plane. The 2018 Honda Accord Sport is fast, fun, and easy to manipulate during a tough situation. It's perfect for the young and young at heart. The Accord Sport doesn't discriminate. It's power and light versatility makes it a universal pick for any generation. Owners raise their praises for its outstanding fuel economy and comfort.
The new Honda CR-V is a beautifully styled and perfectly sized vehicle. It's equipped with great gas mileage and offers steady all-wheel drive with an economical four-cylinder engine. This SUV would be a fabulous family car. Its' generous storage space and hauling capacity combine to create the ideal space for carpooling. Parents will rejoice! Customers who travel or vacation often will fall in love with its flawless design. The 2018 Honda CR-V is the perfect size and it's durable enough for camping and a little off-road adventure. It's a great investment for the client who lives in a hilly, rocky, and mountainous area. The Honda CR-V impresses customers and companies in many ways. It was awarded Motor Trend's SUV of the Year Award and named Best Car for Teens by US News. This safe and sturdy Honda was also recognized by KBB Best Buy in the small SUV or crossover category. 
A new detail was recently added to the Honda Pilot Touring. A brand-new roof rack was added to increase its style as well as its function. This new model comes with many functional and fun features built in. The middle seats are easily folded under with a quick button press. This all wheel drive comes with several modes which can be used to adjust shifting for conditions such as mud, snow, or sand.
Its fresh and stylishly innovative design compliments a classy interior. The 2018 Honda Accord Touring will transform driving with an extremely comfortable, enjoyable, and exciting experience. The exterior is designed to reduce drag for improved aerodynamics. This creates a nice and quietly peaceful ride. Alloy wheels and chrome accents on the exhaust create a rounded body and add an important element of style and fun.
Honda Civics are generally known for being reliable and practical. Its efficiency and safety are what made it popular. It recently transformed from a caterpillar to a sleek and classy butterfly. It's well-known these days for being an incredibly stylish commuter vehicle that offers an easy and comfortable driving experience.
Young Honda offers complimentary tire and lube services with each new vehicle they sell. They provide oil changes and tire rotations to their loyal clients in the Ogden area and beyond. They believe in taking care of their customers and keeping their vehicles healthy. Oil changes are essential to keep vehicle engines clean, smooth, and efficient. Mechanics suggest that oil changes should be performed every 2,000-5,000 miles. Tire rotations are vital as well. This service is completed because tires can begin to wear unevenly as the alignment slips. Regular rotations prevent excessive wear and they extend the life of the customer's tire purchase. This is extremely important if you live in the ever-changing climates of Cache Valley or the Wasatch Front.
The Value of a Trade
Young Honda is the top Honda Dealer in Logan and they do have the option to buy a client's used Honda vehicle and credit it as a trade-in. This is an easy way to kill two birds with one stone. Customers can easily rid themselves of their old car and find a sparkly, shiny, and speedy new one. Curious customers can get a head start on Young Honda's
trade-in page
, and get a general idea of their vehicle's re-sell value with the estimate option. They're able to gain a slight idea of their vehicle's worth, but the final numbers are revealed by a professional at the dealership. Clients need to bring their requested trade vehicle to the Young Honda dealership outside of Ogden. The estimate process will then resume at that point and the numbers are given. Online estimates are accepted within ten days of being entered on their website. This offers clients an adequate amount of time to weigh their options and decide. It also sets a limit before their vehicle's value changes. 
At times, everyone needs a little help. The staff at Young Honda is there to help their customers through the detailed buying process. Their team of auto financing specialists will make it happen if a client has their heart set on a new Civic, Accord, Hybrid, Fit, Pilot, or CR-V. Their team of financing experts serve the greater Ogden Utah area with precision and compassion. Customers may also apply for financing and get pre-approved on their website. However, it's often recommended that customers come in to the dealership and apply for financing. This yields a more accurate result and cuts the customer's wait time. 
High-Quality Parts and Sensational Service
The service center is available six days a week and for ten hours a day. The full schedule can be found on their about page. This is the level of excellence that launched this Utah Honda Dealer to the top. 
Vehicles often need attention at unfortunate and inconvenient times. Young Honda offers comprehensive maintenance and repair options to their wonderful customers. They want to make sure an unexpected repair doesn't creep up on their client. Their attention to detail and friendliness makes each customer's experience easy as pie. Repairs and maintenance are done correctly the first time at Young Honda's service center. As mentioned earlier, free oil changes and free tire rotations are graciously included with any new Young Honda vehicle purchase. Their service team can help with new or used vehicle repairs. They're mechanical experts with a host of knowledge in the automotive industry. They possess the technical skills needed to accurately diagnose and complete any repairs or maintenance. The Young Honda service team provides quick and precise estimates for each repair or service. They'll begin by quoting an approximate price. They'll then move on to the expected length of time it will take them to perform the services. Their mechanics take pride in their hard work serving Honda customers. Their integrity, training, expertise, and professionalism instills the trust and confidence that customers are looking for. 
The greater Ogden area heavily relies on the Young Honda dealership for their automotive parts. The company provides affordable automotive sales and service as well as an auto parts store specifically for them. It's perfect for anyone with a do-it-yourself mentality. The store also benefits those clients who just want to save some money. The Young Honda auto parts store sells high-quality Honda brakes, rotors, axles, filters, and many others! Their experienced auto associates are friendly and knowledgeable. They sell parts to beginners, intermediate, and expert mechanics. Their Honda parts store in Ogden is open six ten-hour days per week. They offer easy access of Honda parts to the Cache Valley and Brigham County areas in beautiful Utah. Customers are always welcome to come by their store for a specific car part, or to gain some important and useful automotive advice. Additionally, they run specials every now and then on different parts. 
Customer Satisfaction is the First Priority of Young Honda 
Young Honda's customers come for the personal experience. They always return for their amazing deals and prices. These three Young Honda teams are all driven to provide excellent timing, parts, prices, quality, and service to everyone. They believe in backing up their sales with amazing deals. Complimentary service options as well as an incredible selection makes them a leader in their market. Young Honda offers updates on important and urgent recalls as well. Customers usually receive them by post or email. The safety and health of their clients are of utmost importance and they honor that mantra daily. The auto parts store is a major plus in addition to their already stellar service options. They are always happy to offer free advice and consultations to any customer that's in need. 
The Successful Team at Young Honda 
Only the highest quality and most talented professionals make the cut at Young Honda. High standards have set the bar for exceptional service exceedingly higher. Mike Capron leads a talented and hard-working team of over thirty-five employees. The Young Honda team moves forward with one goal. 
Convenient Dealership Location and Quick Contact Information
The Young Honda Dealership is located just outside of Ogden. The company operates in Logan, Utah. It's just a short drive from Ogden to Logan to earn exceptional deals on new and pre-owned Honda vehicles. They have a clear vision that they live out every day. Their goal is to serve the young and young-at-heart. They don't believe in age limits when it comes to style, comfort, affordability, and joy. They're located close to the Great Salt Lake and not too far from Bear Lake. Young Honda is extremely proud to serve the breathtakingly large area that includes Ogden, South Ogden, Logan, Riverdale, and Layton. Their main service area lies within Cache Valley, but also includes Brigham City and nearby areas. Customers are welcome to stop in and visit the team anytime during business hours!