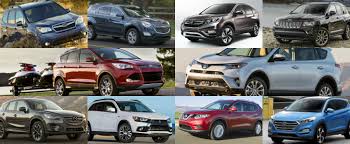 Seven Benefits of Compact SUVs A compact SUV -- also known as a "crossover" -- is is a vehicle that combines many of the design elements and features of standard cars and full-sized SUVs. If you've ever wished that a car could be just a bit more roomy or that an SUV could handle better and use less fuel, a compact SUV might be the ideal vehicle for you. Are you on the fence about whether you should buy a car, SUV or compact SUV? Allow us to describe the top seven benefits of owning a compact SUV. You may find that a compact SUV is exactly the type of vehicle you're looking for.
Roomy, Expandable Storage
A compact SUV often offers nearly as much storage as a full-sized SUV -- and far more storage than any car could offer. The
Honda CRV
is an excellent example of the increased storage space that you can expect when you own a compact SUV. Behind the rear hatch, you'll find 37.2 cubic feet of storage space. For comparison, the Honda Accord sedan tops out at 15.8 cubic feet of trunk space. The CRV doesn't stop there, though. Lower the back row of seats, and you'll increase the total storage space to a whopping 70.9 cubic feet. A compact SUV has the storage space to carry everything you could possibly need for a lengthy adventure.
Better Gas Mileage
Full-sized SUVs such as the
Honda Pilot
have many benefits. They're very roomy and comfortable. Their high seating position gives you a great view of your surroundings. They can tow heavy loads and even handle smoothly in off-road conditions. A heavier vehicle, though, requires more fuel to travel. If today's high gas prices have made a full-sized SUV too much of a financial burden for you, a compact SUV is the perfect compromise. You'll still get the extra room, the comfortable ride and the better view of the road. However, you'll also get a smaller, lighter vehicle that uses fuel much more conservatively. In a typical year of driving more than 13,000 miles, the savings can really add up.
Car-Like Handling
A typical SUV uses a body-on-frame design. In other words, the body and frame of an SUV are typically separate components. The body-on-frame design allows the frame of the vehicle to twist slightly when driving, which makes for better handling in off-road conditions. However, it can also contribute to poor handling on the road. An SUV often twists slightly when turning, reducing the traction of the tires. A compact SUV typically has a unibody design, which means that the body and frame are a single component. A unibody resists flexing during turns, so it handles more like a car than an SUV on the road. With a compact SUV, you may sacrifice the ability to drive in off-road conditions. You'll enjoy much better handling on the road, though. Since many compact SUVs also have all-wheel drive available, they'll handle better on the road during poor weather than many cars would.
Safer Than Cars
Cars may be zippy and small compared to compact SUVs. In general, though, they're not as safe. The reason for the relative lack of safety is energy transfer; in a collision between two vehicles, the heavier vehicle transfers its energy to the lighter vehicle. In fact, if a car and SUV collide, the occupants of the SUV are as much as
seven times more likely
to escape unharmed. In terms of safety, a compact SUV actually gives you some of the best features of both cars and SUVs. With a compact SUV, you have a vehicle that's heavier than most cars -- which gives you an inherent safety advantage in a collision. Because a compact SUV has a unibody design, though, you also get crumple zones that can greatly increase your chance of survival in the event of frontal impact. Since many full-sized SUVs use body-on-frame designs, they typically lack crumple zones.
Better View of the Road
The design of a compact SUV is such that the driver typically has a much better view of the road than he or she would in a car. Relative to a sedan, in other words, a compact SUV typically positions the driver's hips much further from the ground. In 2015,
Automotive News speculated
that the higher seating position is a large part of what has made compact SUVs so popular. The publication suggested that because so many drivers now own SUVs, sedan owners feel compelled to purchase larger vehicles as well. Mike Manley -- the head of the Jeep brand -- suggested that the higher ride height of a compact SUV gives the driver an increased feeling of confidence.
More Passenger Room
Compact SUVs tend to be somewhat larger than cars. As we mentioned above, you'll find most of that space in the back; compact SUVs can carry vastly more cargo than sedans. That being said, compact SUV passengers enjoy a bit of extra room as well. On average, a compact SUV gives passengers 7.5 more cubic feet of space than a midsize sedan. In a compact SUV, four to five adults can expect extremely comfortable seating with plenty of legroom.
Stylish Design
In the past, car owners loved the versatility of minivans and station wagons. Minivans and wagons weren't terribly large compared to full-sized vans and trucks, and they offered plenty of space for passengers and cargo. A compact SUV offers the same level of versatility in a far more stylish package. Demand for compact SUVs is overwhelming. In 2010, there were 73 different sedans available in the United States compared to 49 compact SUVs. In 2015, there were 66 compact SUVs on the market and just 48 sedans. If you want to get the car that all of your friends want, you definitely need to consider a compact SUV.