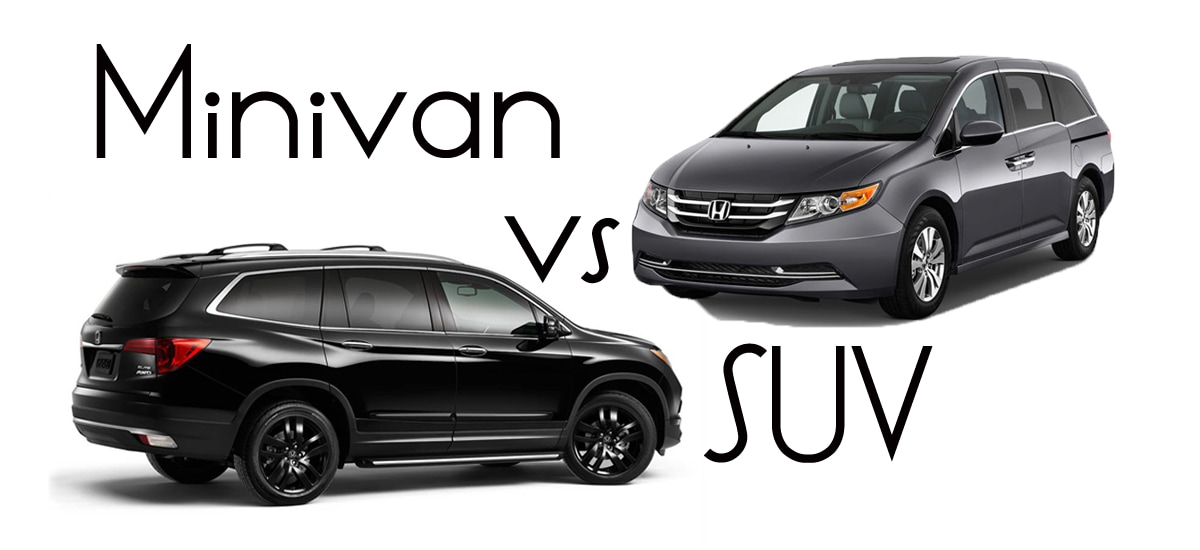 For a family with children, buying a larger vehicle can have many benefits. A van or SUV gives you room for amenities such as multiple safety seats, sports equipment, lots of groceries and toys to keep the children occupied during a long drive. A van or SUV can also offer a great driving experience. Both vehicle types offer a very comfortable ride and a high ride height that gives you a sweeping view of the road. How can you choose between the two? It turns out that vans and SUVs don't differ solely in appearance.
Gas Mileage
In general, vans have fuel economy slightly superior to that of SUVs. The difference in fuel economy between vans and SUVs is typically very small, but it can add up over several years of ownership.
Sliding Doors
Vans often have automatic sliding doors that you can open with your key fob. Automatic doors are extremely convenient when you're carrying an armload of groceries or someone happens to park too close to you. Power doors are also great for children who aren't quite strong enough to open car doors themselves. If you have concerns about the safety of power doors, never fear; power doors back up automatically if they touch something.
You'll also love having sliding doors if you frequently use your vehicle's third row of seats -- sliding doors make the back seats much easier to access. That being said, some SUVs have features to make the back row more accessible. Consumer Reports praised the automatic folding seats in the second row of the Honda Pilot, for example.
Ease of Entry
A van typically has a step-in height similar to that of a car. As a result, smaller children may find a van slightly easier to enter than an SUV. You'll also appreciate the lower step-in height of a van if you have to lift your children to place them in safety seats -- especially if you have multiple children. If you have to make multiple stops during a shopping trip, lifting a pair of small children and placing them in safety seats can quickly become tiring.
Window Size
Since vans are often slightly taller than SUVs, they tend to have larger windows. Children riding in the back seats may appreciate the slightly better view of the road.
Ride Quality
Some people consider the ride quality of a van to be more car-like than that of an SUV. A full-sized SUV typically uses the same frame as a truck, giving it a more truck-like ride. Crossover SUVs use the same frames as cars, though, so they bridge the gap between cars and full-sized SUVs. If you want a larger vehicle that rides like a car, you don't necessarily have to buy a van; you can also buy a crossover SUV.
Captain's Chairs
Many vans and SUVs have "captain's chairs" available for the second row of seats. Captain's chairs have two armrests each and give the two people seated in the second row plenty of room. In an SUV with captain's chairs, though, the seats in the second row will be much closer together than they would be in a van.
Third Row Seating Comfort
Many vans and SUVs feature three rows of seats that allow up to seven or eight people to ride comfortably. In some SUVs, though, the third row of seats will fit children more comfortably than adults. Most vans have plenty of room for adults in every seat.
Insurance Cost
In general, both vans and SUVs tend to have very reasonable insurance costs because both are usually family vehicles. Insurance website Goji.com compared the top five most popular vans and SUVs to find out which vehicle type had the edge in insurance rates. Goji.com found that it costs about $200 less per year -- or $17 per month -- to insure a van.
Towing Capacity
If you need a vehicle that can tow a boat or other heavy object, you almost certainly want to buy an SUV. Since SUVs use the same frames as trucks, they typically enjoy similar towing capacities. The average van can tow a maximum of about 1,000 to 3,500 pounds. An SUV can tow between 6,000 and 9,200 pounds. In addition, many SUVs have four-wheel drive available for better traction when carrying heavy loads.
Off-Road Capability
Although many people never actually drive their SUVs in off-road conditions, the fact is that an SUV is the superior choice for off-road driving. If there is even a small chance that your weekend adventures will lead you off the beaten track, you should choose an SUV. The ride height of an SUV is much higher than that of a van, so an SUV will typically do a better job of handling rocks and potholes.
Safety
According to a 2008 study published in the journal Injury Prevention, vans may be slightly safer than SUVs. The study found that when a crash occurs, children in a van have a lower risk of injury in a van than in an SUV. However, both vans and SUVs are safer than cars in the event of a crash.